An Excellent Choice: The Case For Division III Swimming (Part I)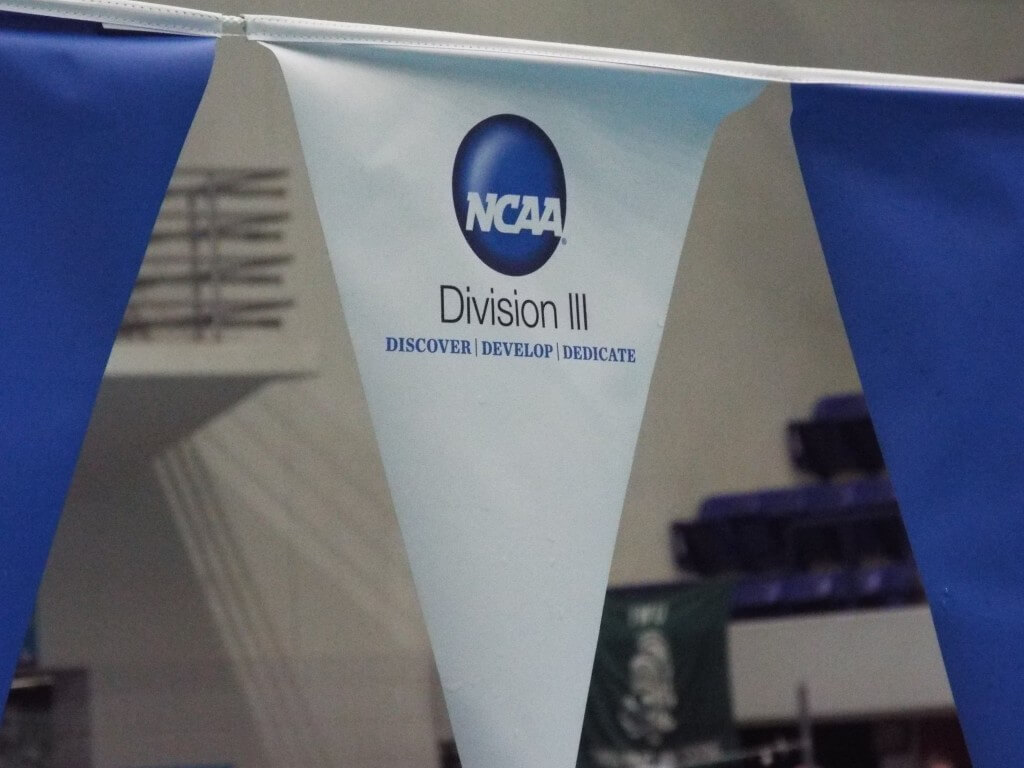 Left Sidebar

An Excellent Choice: The Case For Division III Swimming (Part I)
In the first of two installments, college coaches discuss recruiting and the realities of finding an aquatic home on one of the nation's 524 NCAA Division III teams.
In September, Jason Weber began his 17th year as head men's and women's coach at the University of Chicago. In his tenure there, his teams (seventh and sixth, respectively, at 2022 D-III NCAAs) have produced 431 All-America performances and all 48 school records. As a college athlete, he swam all four years at Brown under a taskmaster now at Tennessee named Matt Kredich, so he knows what's involved in swimming at the D-III and D-I levels.
"I think too many high school swimmers/divers have their sights set on competing D-I because it's the most competitive level, and they don't think about the opportunities that are available to them at D-III," says Weber.
"I was the same way, thinking I'd make NCAAs and be one of the top D-I swimmers, but things didn't go exactly as planned. Looking back, I would have loved the opportunity to still go to a great school, but be a bigger contributor and compete for a national title.
"Not many will have that opportunity in D-I. Student-athletes will get a much better balance between athletics and academics at a D-III school, even compared to the more academically focused D-I schools. It's still D-I, so maybe you're traveling more and miss more class, or maybe there are classes and programs that you wouldn't be able to take if it conflicts with practice," he says.
"That's not the case here (at the University of Chicago), and we're very flexible when it comes to working around any academic conflicts. I actually get a number of D-I swimmers contacting me every year because they're not getting the college experience they thought they would in D-I and want a better balance.
"We're also somewhat unique in that we are on the quarter system, so during the spring quarter, we don't have mandatory practices or competitions. Our season ends at the end of our winter quarter, and D-III schools cannot hold any structured training/competitions in the off-season.
"That means a student-athlete has a lot more opportunities to get involved with much more than just swimming/diving and school. They can study abroad, join clubs or programs they may not have had time for during the season, work more, get an internship or research position, or take more classes or tougher classes that will make academics more manageable during the season. They would definitely get a lot more out of their college experience.
"Obviously, there's still an expectation that they are training and staying in shape. We discuss their off-season training plan at the conclusion of the season, but it's more on them to do what they need to do to be ready for the next season. Some swimmers/divers don't want that added responsibility or to be on their own for parts of the off-season, especially if they don't have a club team to train with," says Weber.
"Of course, money is a factor, too, and while we have an excellent loan-free financial aid program, we may not be able to compete with in-state tuition or with schools that are offering athletic scholarships. I think sometimes recruits/parents just want to be able to say their child received a scholarship at a D-I school, even if it's just a small amount, instead of researching what aid is available to them at other schools. I think many would be pleasantly surprised that they can actually get more money here and be on a better team—most of the top D-III programs are just as good, if not better, than many D-I schools. For some, money isn't even a factor, but the allure of receiving an athletic scholarship keeps them focused on D-I."
OUT WEST
The men and women at Claremont-Mudd-Scripps placed eighth and 11th, respectively, at last season's D-III NCAAs. In Coach Charlie Griffiths' 22-year tenure at CMS, his teams have finished in the top 10 ten times and in the top 25 26 times.
"To me," he says, "the primary goal when engaging in the college search is to find a place where you're likely to excel in the areas important to you and to enjoy the experience while doing it. The academic environment is paramount: Do the classes and potential majors excite you, and will you be challenged to stretch yourself while also finding the support needed to succeed? Can you see yourself flourishing in the overall campus environment? How do students spend their non-academic time, and does that mesh with the experience you want?
"Just like in the academic arena, there are many ways to succeed in the pool," says Griffiths. "You can find coaches and team environments that can elicit excellence from you in each division. What I love about our environment in Division III and at CMS is that we've created a track record of swimmers who improve over their careers and enjoy the process, while also setting themselves up for post-graduate success. We believe that our training program stacks up with anyone's during our September-to-March season, and yet there is freedom to design the non-NCAA season the way you want for a wholistic life experience.
"The Division III environment allows our swimmers to engage in phenomenal résumé-building activities over the summer, in addition to taking a year-round approach to fitness by either training and competing intensely with a high-powered club/university swim team, or by cross-training in a fresh way. Our swimmers own their academic, athletic, social and pre-professional preparation, and that culture of ownership enhances CMS team members' ability to thrive on multiple levels."
VIEW FROM THE TOP
Jon Howell has headed the Emory program since 1999. His women have won 12 D-III crowns (they just missed winning their 11th consecutive title in March by seven points), while the Eagle men won their second in four years of contested competition.
Howell, himself, is used to winning. He was an 11-time national champion and 21-time CSCAA All-American at Kenyon, and he even coached the Lords to a national title (1996) while serving as their interim coach.
Despite being blessed with an embarrassment of riches in terms of academic and aquatic excellence, he faces a number of challenges, including admission selectivity, D-III training restrictions and club coach reservations. When asked if academic and aquatic eminence at top D-III schools was a plus or a minus, Howell responded, "A bit of both. A minus for us is that the academic, athletic and financial pieces have to line up. Seventy-five percent of the kids who express interest in us are never going to make it through the admissions process. That's true of Hopkins, MIT and some others as well.
"I encourage kids to look for fit. We don't fit neatly into the D-III category. We benefit from D-III nationals, having a target, a D-III championship, but we are not a stereotypical D-III team. We are trying to create something that is uniquely Emory—and that is a good fit for the right person.
"The kids who are looking at us seriously and us vice versa are highly motivated. They want a balance of high-level swimming and academics, and don't want one to impact the other negatively. We do a lot to support them through that process.
"In my mind, the biggest limitations of D-III—and something I'd love to change, but have realized I can't—is the ability to train kids year-round. I'm in the minority there in the D-III world. I have some swimmers who want that as well." For those who do—like D-III's first Olympian, Emory grad Andrew Wilson—the answer is club swimming with teams like Athens Bulldog Swim Club or Dynamo.
"The other challenge," says Howell, "is the bias some club coaches have toward D-I. So, then it's about trying to educate coaches on what our option is and how we might be different from a traditional D-III school. That involves explaining what kind of kids we are looking for and working on our behalf instead of against us. That's something I spend a lot of time doing and a constant battle I fight. I really work hard at developing relationships with coaches.
"My goal is to educate coaches and kids. We want them to understand who and what we are and be able to make an educated choice as opposed to a convenient choice. Anyone we are actively recruiting has opportunities at the D-I level," he says. "We, and potential recruits, are trying to narrow down choices. An easy way for an athlete to do that is just eliminate D-III. It may be the easier choice, but I don't know it's the best option.
"There are great D-I programs with committed coaches and team cultures that are conducive to fast swimming, success and taking care of kids. There is the opposite of that as well. Just because a program is D-I doesn't mean it's better than D-II or D-III," says Howell.
* * *
Jessen Book's Kenyon Ladies won the women's D-III tile in March. One of his stars was 28-time CSCAA All-American Crile Hart. "She was definitely the type of athlete who would have been welcomed on a D-I roster. In comparing divisions, recruits need to be clear about what role they want to play on their team, in their conference and at the NCAA Championships. For the truly elite, that may be the D-I Championships. However, for many other talented and driven swimmers, that fit may be better at D-III," he says.
A D-I PERSPECTIVE
She was a six-time individual high school state champion in Indiana, a nine-time CSCAA All-American at Texas, head coach at Tulane and assistant at Virginia and Rutgers. Now as head coach at Northwestern, Katie Robinson understands the essentials for success in the D-I ranks. "I'm a big believer in recruiting honestly and telling prospects what we expect from our student-athletes. We want them to know what the expectations look and feel like and how the year is mapped out so they know what it takes to be good at this level.
"When we have someone in our pool who we consider recruitable, I ask where are they looking? If they say D-III, it's usually a top D-III program. Then I ask where do they want to be in the training hierarchy—i.e., top end, middle, bottom? Do they want to be a contributor, score points? Then I talk about how that is different at Northwestern, what it takes to score at the Big 10 level, how deep the conference is and that kind of stuff. It is an educational conversation on expectations.
"D-III programs, from my experience, tend to be high-level academic institutions. I understand why that's important and attractive. I also let recruits know that we don't typically compromise swimming for academics—the same way they don't have to compromise going to a strong academic school to be a strong swimmer.
"I hear talk about 'balance,' which is a very interesting word to me. It's not a balance—it's a grind academically, and it's a grind athletically. You've got to crave and love both, and be able to handle that. It's not for everybody, and that's OK. There are amazing things to accomplish in life. Depending on priorities, being a D-I swimmer might not be the best fit to maximize potential as a whole person.
"There are some amazing opportunities in D-III for kids, and for some, it can be a better fit," says Robinson.
Coming soon: In Part 2 of "The Case for D-III Swimming," we will examine a program whose mission is to prepare swimmers to compete in college and how that approach helped them succeed at their chosen schools.
Michael J. Stott is an ASCA Level 5 coach, golf and swimming writer. His critically acclaimed coming-of-age golf novel, "Too Much Loft," is in its second printing, and is available from store.Bookbaby.com, Amazon, B&N and book distributors worldwide.